Does your organization have clearly articulated values and a stated higher purpose? Does anyone (other than some senior leaders and owners) know and care?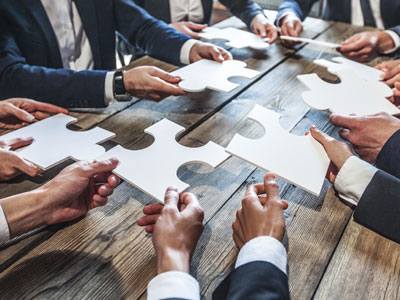 The most powerful force in business is a culture unified in pursuit of a higher purpose – a cause that is personally meaningful and compelling throughout the organization. Employees in a conscious culture understand the interdependence of values, profitability, professional fulfilment, and social impact. Is that the kind of organization you want? If so, read on….
In our greed-is-good, inequitable society, it takes innovative and inspired leadership to entice employees to think long-term and act on behalf of a greater good. The Conscious Culture Roundtable is designed to empower that kind of leadership!
The Conscious Culture Roundtable serves a specific need – helping business leaders align the mindset and behaviors of the organizations' employees to the company's purpose, mission and values.
In this program, we address the specific needs of the members through sharing relevant experiences (successes and failures) and insights from Roundtable members, along with targeted guidance from an expert conscious leadership coach. This design is a proven vehicle to leverage culture as a means to maximize the long-term value of your company and fulfill its potential as a positive force for all stakeholders!
The Conscious Culture Roundtable is for CEOs and senior leaders who are fully engaged in developing and steering company culture – leaders whose personal mission entails improving the lives of people inside and outside the company.
Specifically, the Conscious Culture Roundtable is designed to…
Share and learn best practices for creating and maintaining conscious culture
Spur innovative initiatives for productivity, work fulfillment and positive impact
Establish relationships with trusted, non-competing peers for candid feedback
Problem-solve company-specific issues related to organization development
Give/Receive emotional support among like-minded peer leaders
Share proven resources for business success and personal wellbeing
Activate and spread the principles of Conscious Capitalism
Roundtable structure…
Facilitated, confidential virtual meetings
Maximum of 14 members
3-hour meetings
Ten (10) monthly gatherings/year
Membership by invitation (click here to be considered)


Here are a few comments from recent members of this unique and powerful program....
"We have heard the quote that 'culture eats strategy for breakfast'. In all the roundtables I have been a part of, none of them got me as focused on the culture of the business as the Conscious Capitalism Roundtable did. Malcolm did an amazing job curating the group and then moderating the topics so that all attendees had the opportunity to contribute their advice and extract the best practices they could use in leading their companies."
– K. Ruggiero, Chairman and CEO

"Malcolm is an inspirational leader, collaborative facilitator, and catalytic transformer that I would wholeheartedly recommend to get on your team or in your ecosystem! He effectively creates safe, brave and even sacred space to experience, self-reflect and create positive action and change for individuals, teams and systems, always with an eye toward not just a coherent strategy but a compelling and conscious culture. Our times together have been thought-provoking, eye and heart opening and results boosting for our $4.5B organization! Sit in on even one session and you will be blown away…"
– N. Billimoria, SVP/Chief Advocacy Officer

"The Conscious Capitalism Roundtable gave me an opportunity to pursue the principles of this organization, learning from others with similar objectives and joining with others to solve real-world business challenges within the context of humanistic capitalism. The candid discussions and support provided was invaluable. The advice and guidance that I was able to provide occasionally afforded me a sense of purpose, helping others make progress along the journey. With Malcolm's expert facilitation, every session was productive and positive, well worth the time investment and instrumental in my own efforts to succeed in creating an organization that succeeded on all business metrics, while forming an environment where people loved to be."
– S. Sewitch, Global Organization Development
To be considered for membership in the Conscious Culture Roundtable, inquire here.
"Deliberately seek the company of people who influence you to think and act on building the life you desire." – Napoleon Hill